Skip to product information
Infinity Hydrating Cleanser 60ml - Wholesale 60
Regular price $18.99 Sale price $7.60 Save 59%
Hurry up! This offer expires in:
Expires in:
Infinity's bespoke
OIL-FREE
Hydrating Cleanser 
The Brow Shampoo BFF you have been waiting for 
This was designed for artists, by artists to help you achieve success in Hybrid tinting, Henna Brows or any of your bespoke brow and lash services.
It works with any hybrid tint line or before Lamination service. It is also safe for use on lashes.
Ingredients sourced from around the globe and specifically made to elevate your brow game:

Purified Water: plays an essential role in the effectiveness and usability of a cleanser, helping to dilute and suspend the cleansing agents, improve their solubility, and facilitating rinsing.

Propylene Glycol: Helps to attract and retain moisture in the hair.
Sodium Surfactin: Cleanses the hair without stripping it of its natural oils.

Polyglutamic Acid: Hydrating humectant that helps to smooth the hair and skin, and can hold up to 5000 times its weight in water.

Hyaluronic Acid: Highly moisturizing humectant that helps to hydrate and nourish the hair and skin.

Sodium Lauryl Sulfoacetate (SLSA): A gentle surfactant that helps to cleanse the hair without causing irritation.

Aloe Vera: Soothes and hydrates the skin, leaving it feeling healthy and Moisturised
Directions for use: One Pump on the brow area, and using your exfoliating pad work in circular motions to gently cleanse, exfoliate and treat. 
Perfect During maintenance treatments, where it can be left on for 3-5 mins as a nourishing treatment,
Around 80 uses per bottle. 
Shipping Policy:
We ship to all locations within the United States and internationally.
Orders are typically processed and shipped within 2-3 business days.
Shipping rates will vary based on the size and weight of the item(s) and the destination.
Expedited shipping options are available for an additional cost.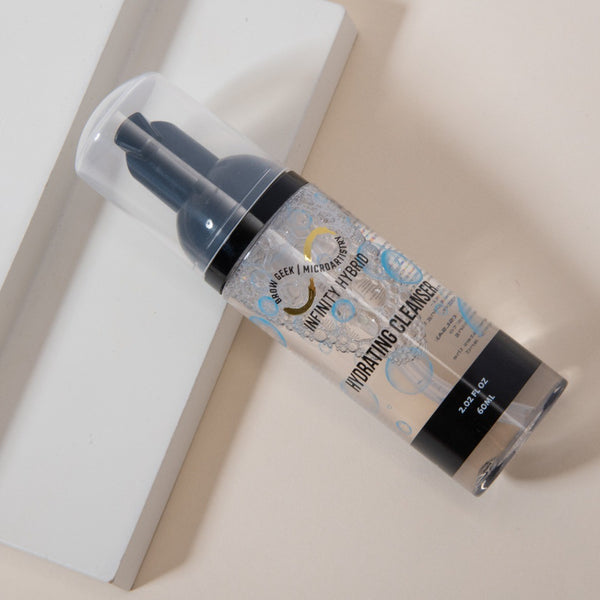 Infinity Hydrating Cleanser 60ml - Wholesale 60
Regular price $18.99 Sale price $7.60