Skip to product information
Infinity Saline Solution 100ml - Wholesale 60
Regular price $15.99 Sale price $6.40 Save 59%
Hurry up! This offer expires in:
Expires in:
Infinity's multi-use wonder brow and lash product!
IF YOU KNOW, YOU KNOW
Saline solution, a sterile solution of salt in water, is commonly used in brow services for its cleansing, sterilizing, hydrating, and soothing properties.

It helps to cleanse and sterilize the skin, reducing the risk of infection or inflammation, while also keeping the skin hydrated and improving the absorption of brow products for a more even and natural-looking result.

Additionally, it can have a soothing effect on the skin, making it a beneficial solution for clients with sensitive skin during chemical brow services.
HOW TO USE: 
Use after step 2 on brow lamination to degrease area and take away oils before your hybrid or tint. 
Use after any shampoo to leave an oil free area 
Use to clean ANY area near the eye, this is completely safe. 
Use it to Mix with HENNA powder to supercharge your henna 
This is our large double size at 100ml 
Shipping Policy:
We ship to all locations within the United States and internationally.
Orders are typically processed and shipped within 2-3 business days.
Shipping rates will vary based on the size and weight of the item(s) and the destination.
Expedited shipping options are available for an additional cost.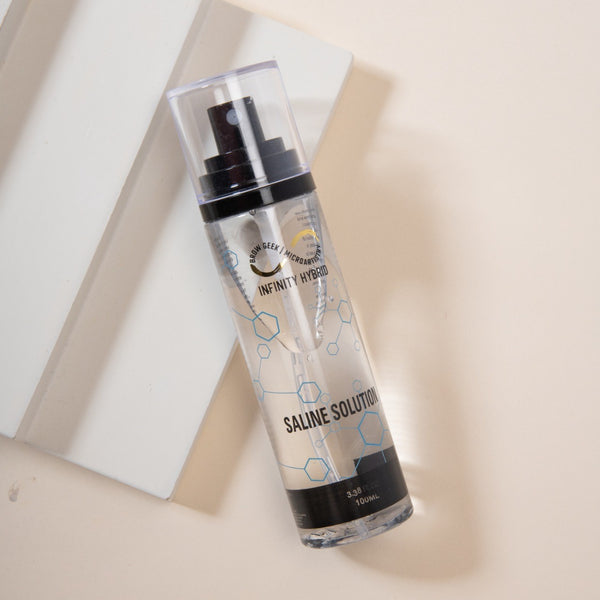 Infinity Saline Solution 100ml - Wholesale 60
Regular price $15.99 Sale price $6.40